1925 Earthquake
Natural Disasters:
A Santa Barbara Timeline
1964 Coyote Fire
Natural Disasters:
A Santa Barbara Timeline
1995 Floods
Natural Disasters:
A Santa Barbara Timeline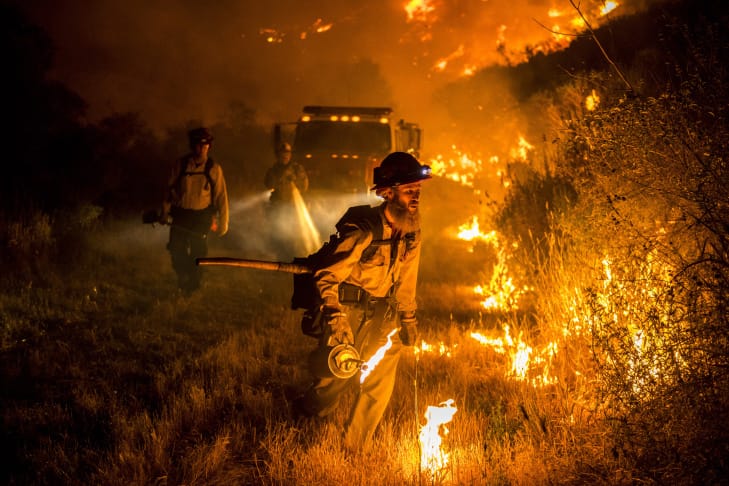 2016 Sherpa Fire
Natural Disasters:
A Santa Barbara Timeline
1/9 Debris Flow
Natural Disasters:
A Santa Barbara Timeline
Natural Disasters: A Santa Barbara Timeline
Saber es poder.

Knowledge is power.
This timeline of natural disasters in and around Santa Barbara County dates back more than 100 years to cover wildfires, floods, debris flows, winter storms, and two major earthquakes. As an educational tool, it is recorded history of common threats across our region. As we prepare for the future, we can learn from the lessons of the past. The information and images contained in this timeline can help us gain a greater perspective on the hazards we face here in Santa Barbara County. Without this knowledge, it's impossible to properly prepare for the next natural disaster. 
While this timeline covers significant recorded disasters, there are likely other events not included that you may have experienced personally or know about. Please do not hesitate to contact us with more information. We view this timeline as an evolving record and a good place to start a discussion about the history of natural disasters in our area. Where this conversation goes is up to all of us.
This tool is simple to use. Simply scroll along the timeline top to bottom. To jump to a specific date, scroll and click on the timeline bar on the right side of the page. Click on images to expand. Click outside an expanded image or tap "esc" to return to timeline.  
This project was principally researched and written by Bucket Brigade intern James Kendrick, and designed by webmaster Andrew Hill. In particular, we would like to thank the Montecito Association History Committee for help and access to its archive, where we found many of the historic photos that appear in this timeline.
Santa Barbara Disaster Timeline
Geiger 1965:43; Engelhardt 1923:90-91; O'Keefe 1895:19; Writers' Project 1941:188

David F. Myrick. Vol. 1. Montecito and Santa Barbara: From Farms to Estates, 1988
Walker A. Tompkins, Santa Barbara Yesterday, Montecito and Santa Barbara Vol. 1. Floods and Fires of the Early 1900s
Maria Churchill, The Way We Were. Disasters of past years, Dec, 1997

Army Corps of Engineers fire & flood assessment, 1964

David F. Myrick. Vol. 1. Montecito and Santa Barbara: Fires and floods of recent decades; Judy Pearce, Montecito Journal, Montecito Scrapbook, Feb 4, 2001
Hillary Houser, Santa Barbara News-Press stories from (Jan 28 & 29, March 2), Winter Weather: Lessons of resilience and forgetting from the savage storms of 1983
Ray Ford and Keith Cullom, Santa Barbara Wildfires: Fire on the Hills, 1990. 
John Palminteri, Painted Cave Fire 25 Years Later – One Life and Nearly 500 Homes and Businesses Lost, KCOY, Jun 26, 2015

1995 Santa Barbara County flood report

1998 Santa Barbara County flood report

Wildland Fire, Lessons learned Center: The Zaca Fire: Bridging Fire Science and Management; 
Sean Boyd, Zaca Fire Left its Mark on Santa Barbara County & the History Books, CAL OES News, Jul 11, 2017

Marla Cone and Stuart Silverstien,

Zaca fire burning way into state history, Los Angeles Times, Aug 20, 2007
Ethan Stewart, The Great Gap fire of 2008, Santa Barbara Independent, Jul 10, 2008
Chris Meagher, Terror on the Hill: The Brief but Violent Life of the Tea Fire, Santa Barbara Independent, Nov 20, 2008
Noozhawk, live updates, May 6-14, 2009 

Oscar Flores,

Whittier Fire is now 100 percent contained, 18,430 acres burned, KEYT, Oct 5, 2017

Alex Johnson and Phil Helsel

, California's Whittier Fire Ravages Boy Scouts Camp, Kills Animals, NBC news, Jul 8, 2017
Tom Bolton, Whittier Fire Puts on Menacing Show as Sundowner Winds Whip Flames, Noozhawk, Jul 14, 2017
Veronica Rocha, Sherpa fire in Santa Barbara County started by hot embers from burning log, Los Angeles Times, May 3, 2017
Joseph Serna, Heavy rain prevents Obama from landing in Palm Springs causes mudslides flooding across region, Los Angeles Times, Jan 20, 2017
CountyofSB.org: Sherpa fire information and updates
Chris O'neal, Thomas Fire | Timeline dec. 4 through dec. 13,

Dec 13, 2017

Joseph Serna and Melissa Etehad,

Hundreds of homes in Montecito threatened as winds push Thomas fire toward coast: new evacuations, Los Angeles Times

, Dec 16, 2017

Joseph Serna, Southern California Edison power lines sparked deadly Thomas fire, investigators find,  Los Angeles Times, Mar 13, 2019
Nina Oakley and Marty Ralph, Meteorological Conditions Associated with the Deadly 9 January 2018 Debris Flow on the Thomas Fire Burn Area Impacting Montecito, January 16, 2018
County of Santa Barbara Office of Emergency Management, Thomas Fire and 1/9 Debris Flow After-Action Report and Improvement Plan, October 16, 2018
Santa Barbara Independent, November 25-27, 2019